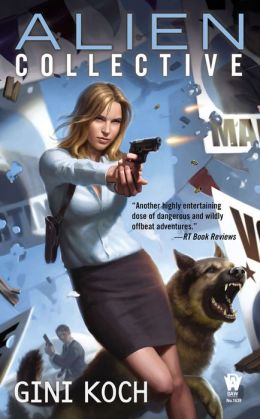 Kitty and her crew are still trying to stay a step or two ahead of the bad guys, but this time they may have more trouble than they can manage. After a brief reprieve to mourn their losses and regroup after the events of
Alien Research
, the attacks are coming fast and furious. Kitty will need the help of her "uncles" the assassins, the K-9 Stooges, and her favorite dog-on-duty, Prince, as well as her usual team to foil the bad guy plans-du-jour, convert enemies to allies, and keep her favorite politician - her husband - alive.
The pace of this installment in the Alien series by
Gini Koch
was breakneck. I felt like all I could do was hang on through my first read so I could just find out what happened. A second - or maybe a third - read will be required if I want to have any hope of finding hints to figure out who the Mastermind is and what he/she might be planning for the future. I have really enjoyed the evolution of this series. It has developed a mystery angle that I wasn't expecting when I started reading it - and I LOVE mysteries. When I read these books I feel like I did as I was working through the last couple Harry Potter books - trying to find and interpret the clues and guess what was going to be coming in the end. Masterful plotting! This is definitely a series to read in order. Each story builds on events and clues and characters introduced in previous books. The cast has gotten quite large, but Gini does a good job with the recaps if it's been awhile since you read the previous stories. If you are already a fan of this series, don't hesitate to dive into
Alien Collective.
If these books are new to you and you like science-fiction with a bit of mystery and romance thrown in, check out book one,
Touched by an Alien.
You can read my other reviews from this series
here
.
4 out of 5 stars
I've already put in my order for the next book in the series,
Universal Alien
, which releases on December 2, 2014!