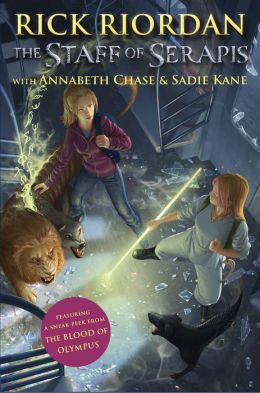 Annabeth Chase (Percy Jackson series) fights a two-headed monster on the subway and meets Sadie Kane (Kane Chronicles series). The two girls have to join forces - Greek demigod and Egyptian magician together - against Serapis, the god of Alexandria, Egypt in order to save the world.
This was excellent - laugh-out-loud funny at times! Right now you can only read this story in the back of the paperback edition of
The Mark of Athena
but an ebook version (pictured above) will be available later this month (with a preview of
The Blood of Olympus)
. Riordan did this last year, putting a short story at the back of the paperback edition of the Serpent's Shadow. In "The Son of Sobek," Percy Jackson and Carter Kane meet up and deal with a monster together, too. "The Staff of Serapis" seems to be setting up some future adventure with these same characters working together. I don't know if that would be a full novel or just more short stories, but either way, I am on board for whatever comes of these combinations. The characters are even better together than they are in their own stories - and I love them in their own stories!
4 out of 5 stars