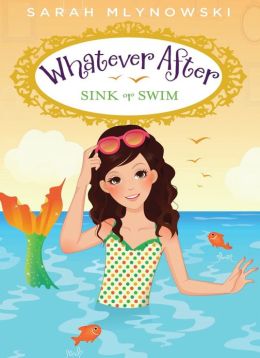 Abby and Jonah go back through the magic mirror again, this time into the story of the Little Mermaid. But this isn't the Disney version! This is the original, where the mermaid loses her tongue instead of her voice and the prince marries another which means the mermaid will die. Abby and Jonah do their best to get the mermaid to embrace her underwater life and not even bargain with the sea witch, but she does and they are left to help her connect with the prince and hope for a happy ending.
Another great story in this fun series! I love that the interactions with Abby and Jonah not only "ruin" the original story but also make the fairy tale character they try to help become better a better person - more independent, and in this case teaching the mermaid to read and write. I ordered this one through my son's classroom Scholastic order so I could have it early (Barnes and Noble says this releases April 12th) to share with students. As soon as I put it on display as the book I was reading, I had kids asking about it multiple times during the day, begging me to get it in the library asap.
3 out of 5 stars
No AR level at this time
Recommended for: elementary students, fans of the series, fans of princess stories and/or fairy tales.