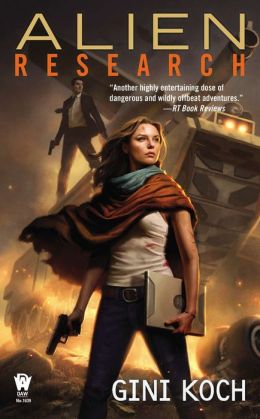 Kitty receives a warning call from her chief of security that gets cut off mid-sentence. Walter is away at a mandatory security training session - along with most of Kitty's usual butt-kicking team. And no one can reach them. This would be bad enough, but the evil overlords like to run multiple plans at once, so Kitty's also getting threatening phone calls from the new head of Club Fifty-One and surprise visits from the leaders of various corporations doling out the evil plans. ACE is still off the grid, so Kitty's going to have to keep "thinking right" on her own if she hopes to foil the bad guys and save her team.
Wow! This was an emotional roller coaster! I read this after re-reading the entire series. I decided during the re-read that
Alien in the House
is my new favorite (along with
Alien Tango
) because it is so funny and sassy - Kitty at her best. And this book starts the same way. I was laughing out loud at some moments. And because so many folks are tied up with the security training that goes awry, Jeff and Christopher leap into action just like the good old days from books 1, 2 and 3. I was really in the groove with this book. And then the evil plots started to coalesce and the good guys started to take some losses and my feel-good, funny story took an emotional turn. These stories are so intricate, you really have to take more than one pass through them to take it all in. I think that's why I love this series so much - there's a lot of depth in the plotting in each one. A fast read through because you want to know what happens means you'll miss some things. I've already taken a second read through and it was just as good the second time.
5 out of 5 stars
Kitty is as sassy as ever in this story and I still love her!
Alien Collective
releases on May 6th. I've already pre-ordered my copy!
Cautions - as with the other books in the series, there is some language and detailed romantic scenes.