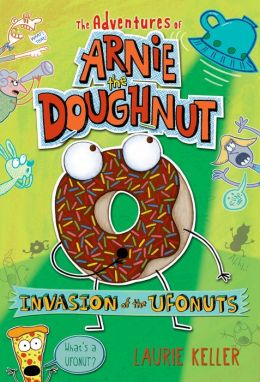 Arnie and his friend Peezo have a falling out because Peezo thinks Arnie is a doughnut from outer space. It seems that alien doughnuts are invading and abducting Earthlings in order to save the doughnuts of Earth. When Arnie is abducted, he will have to think quickly to save his friends and doughnuts everywhere.
This is a fun, quirky book. The illustrations, complete with side comments (Look at the front cover for examples - like Peezo saying, "What's a UFONUT??") are fantastic. My students can't get enough of Arnie the Doughnut - the waiting list for the first chapter book is always at least 6 kids long. I know they will love this, too. Even my most reluctant readers come by the library every week asking if Arnie is back on the shelves. Check out
Arnie the Doughnut
- the picture book sets up the story and the chapter books pick up from there.
4 out of 5 stars
There is no AR reading level yet.