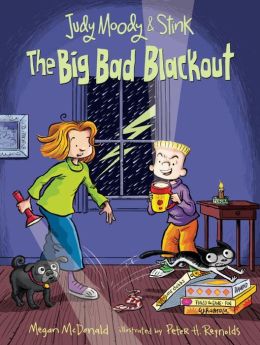 * I received this book from the publisher for free in the hope that I would review it honestly on my blog. Regardless, I only review books I enjoyed. I don't believe in passing on negative reviews. I am disclosing this in accordance with the Federal Trade Commission's
16 CFR, Part 255
: "Guides Concerning the Use of Endorsements and Testimonials in Advertising.
Judy and Stink and their family hunker down to wait out a hurricane and black out. Their grandma comes to wait out the storm with them. They play musical board games and everyone tells a hurricane story. They eat s'mores and live without electricity for a few days - and they love it!
I received an advance e-copy of this book from the publisher, Candlewick Press. I enjoyed this story. It was a great story to read in the winter when snow days are always a possibility! The books that center on Judy and Stink (
Mad, Mad, Mad Treasure Hunt; Holly Joliday)
are extra fun because all the pictures are in full color. Those were available in my e-copy and they were excellent. The hurricane stories were probably my favorite part of this story, especially the ones from the grown ups. Musical board games is a pretty fun idea, too - I could see a classroom party including something like that! This story was a lot of fun!
4 out of 5 stars
This book releases on April 8, 2014.
Cautions: The kids' grandmother brings a Ouija board with her and the family plays it.