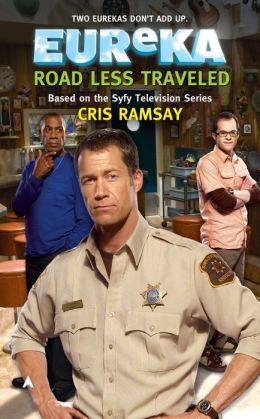 When one of the scientists at Global Dynamics creates a link to an alternate Eureka, it's fun to see how alike everything is. But it is also a little disconcerting. In the other Eureka, Kevin is dead, Stark is alive, Henry is in jail and Fargo is sheriff because Carter never lived in Eureka. Pretty soon the interest in the similarities and differences has to take a back seat because the two dimensions are on a collision course and both will be destroyed unless Carter can find a way to save the day (again).
Our family has been watching episodes of Eureka on DVD since December. It's a show I have loved for awhile, but hadn't watched in ages. My son has even enjoyed it and prompted us to work through the whole series, episode by episode. It has been a great family activity. There are three books that go with the series, but
I had only read two of them befor
e. Our journey through the DVDs prompted me to pull the last one from the shelf and read it.
This is a typical Eureka story, whether from TV or from the books - there are two stories going on at the same time, building the tension and bickering. This book, like the other two, referenced several events from the TV series, but nothing that was essential to understanding this story. The geniuses in both Eurekas have to work together on the science, but Carter ultimately has to save the day - just like the TV show. I enjoyed the banter between the characters; it felt true to the relationships on the TV show, which I think is essential to issuing books that tie into beloved TV shows.
3 out of 5 stars
I think readers will enjoy this book, and the other two, more if they are already familiar with the show. If you have never seen an episode of Eureka, I'd suggest starting with the pilot. It's smart, and funny - I laugh every time I watch it!