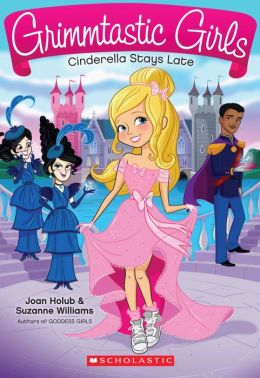 Cinderella is the new student at The Grimm Academy. She connects with Red, Snow and Rapunzel, and they become great friends. The step-sisters are there, too, looking to cause as much trouble for Cinda as they can. Someone else is trying to cause trouble at the school, too. Can Cinda and her friends figure out what is really going on at The Grimm Academy?
This was excellent! This would be perfect for readers who already enjoy the
Whatever After
series and fans of the
Ever After High
book,
Storybook of Legends
. The characters are likable. The fairy tale elements aren't cheesy - something I worry about when I start a book like this. The world-building is fantastic; I especially loved the magical library. Some issues are left unresolved for book two, and I personally can't wait to read it. I told my students about this book when we previewed some of the books that will be coming in our Scholastic book fair later this month. I predict this will be one of my best sellers - and I'll be the first in line to buy it because my nieces are going to love this one. Photos of the next two books are shown below.
5 out of 5 stars
No AR reading level at this time. Books one and two release on March 25th, but may be available through Scholastic sooner. Book three is scheduled to release in June 2014.
* I received an electronic copy of this book from the publisher for free in the hope that I would review it honestly on my blog. Regardless, I only review books I enjoyed. I don't believe in passing on negative reviews. I am disclosing this in accordance with the Federal Trade Commission's
16 CFR, Part 255
: "Guides Concerning the Use of Endorsements and Testimonials in Advertising.