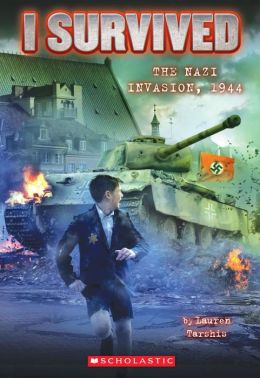 Max and his sister, Zena, are alone. Confined to a Jewish Ghetto in Poland, trapped behind a barbed wire fence, the kids are in danger every moment. Their father was dragged away by Nazis. Max and Zena have been on their own for a month. When they escape the ghetto, a forest promises some cover, but the Nazi's are looking for rebels who blew up a train of supplies. They will level the forest if it means finding these rebels. And if they can eliminate a couple Jewish kids at the same time, the Nazis will consider it a bonus.
This was really well done. It addressed the Holocaust in an age-appropriate way and without delving into the gruesomeness of the concentration camps. I hadn't heard of the partisans before I read this, so I learned something, too. Always a good thing! Students will love the adventure and the setting; World War II is a part of history that grabs kids' attention. Fans of the series will not be disappointed with this latest book in the series. Again, when I presented this book to students as part of our book fair preview, they were frantic to get their hands on this book.
5 out of 5 stars
AR Reading Level of 5.1
The next book in the series is pictured below and releases in August of 2014.
* I received an electronic copy of this book from the publisher for free in the hope that I would review it honestly on my blog. Regardless, I only review books I enjoyed. I don't believe in passing on negative reviews. I am disclosing this in accordance with the Federal Trade Commission's
16 CFR, Part 255
: "Guides Concerning the Use of Endorsements and Testimonials in Advertising.