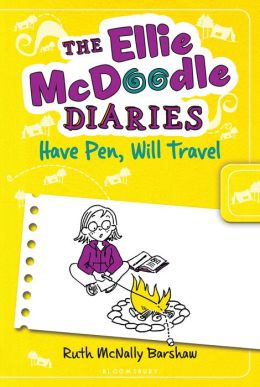 When Ellie's parents are called away for a family emergency, Ellie and her little brother are sent to stay with family and go on a camping trip. Ellie finds her aunt and uncle to be grumpy, thinks her cousins are lame, and believes everything the family does is wrong. She records all her experiences, thoughts, and feelings in her sketch book. When her cousin finds the sketch book, things get pretty awkward and uncomfortable.
I discovered Ellie McDoodle last fall and fell in love with her
. In this particular book, she was a little harder to love because she was SO unhappy (I guess that is a sign of good writing that her mood was so evident!). In this book, Ellie deals with some lessons in learning to get along. I thought it was a great example of how everything YOUR family does always seems "right" and everything others do feels "wrong." This could be an interesting discussion in a book club or a classroom setting. Ellie deals with her guilty feelings and the confrontations with her family in realistic ways and she learns a lot along the way. I think fans of Ellie's other books will like this one. I don't think readers have to read them in order to enjoy them, although I might suggest to students that they start with one of the more light-hearted books before diving into this one. The journaling-format, with art, might appeal to fans of Dork Diaries or Big Nate or Diary of a Wimpy Kid.
3 out of 5 stars