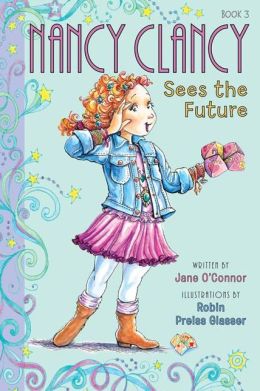 Nancy is convinced she can tell the future - she knew Daddy was bringing home pizza, and she knew it was Grandma when the phone rang! She's so certain that she starts answering questions for the other kids at school. But Bree doesn't like Nancy's new "talent" and it is affecting their friendship. And some of Nancy's predictions aren't coming true. What happened to her special gift?
This reminded me of a
Judy Moody book
I read last year. It's a sweet story about kids who are learning the difference between predicting the future and intuition and hunches. Magical thinking is part of childhood - a fun part - and it's easy to let some good guessing convince a child that she can predict the future. Nancy learns a lesson as her predictions cause a lot of trouble for her and for her friends. Fans of this series will enjoy this new story in Fancy Nancy's foray into chapter books.
3 out of 5 stars
No AR reading level at this time
Here are pictures of the first two books in this series. Book four,
The Secret of the Silver Key
will release next spring.