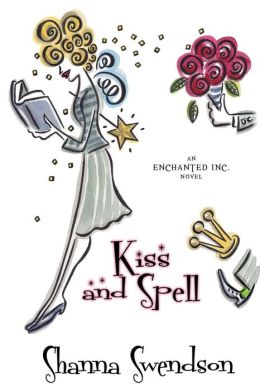 Katie and Owen are back! Owen has his magic powers back - and Katie now has some, too! This has the potential to change her role at MSI - just what she was looking for - except that they have to keep the magic a secret. If the powers that be in the wizarding world knew that Owen had his magic back, he would probably be arrested as a danger to the world, even though Katie knows Owen could never be evil, no matter who his biological parents were. Before they have too much time to develop a plan for this recent change in both of their statuses, elves start disappearing and Katie and Owen start sleuthing. What they find could destroy their relationship... since they don't even remember they have one.
I was tickled to find there was a new book in this series! You can read about the other books by this author
here
. It's no secret to folks who read the blog regularly that I enjoy fantasy and science fiction. I have loved this series from the beginning because it contains the magic and fantasy pieces I enjoy without going too dark and creepy, which I don't. The middle was a little frustrating. For a few pages I started to wonder if the e-book folks had made a mistake! Nothing in the book felt right - the setting, the way the main character was acting.... Hang with it, and it will all start to make sense. This was a fun adventure with characters I already love and a great love story. As soon as I finished, I was online looking to see if there was another book on the way. Looks like this could be the last in the series.... I will hold out hope for a new story some day, but until then, I'll just keep reading these and enjoying them time and time again.
4.5 out of 5 stars