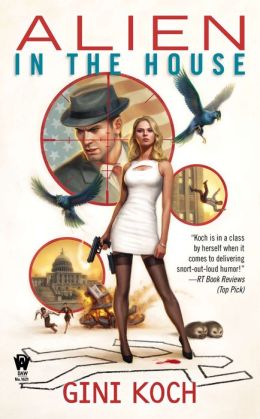 Jeff and Kitty are back to their regular diplomatic roles after the events of Operation Destruction. But we all know "regular" never lasts. Before long old friends are missing, new friends are dead, bullets are flying and enemies thought permanently gone are back and running circles around the team.
I thoroughly enjoyed this new installment in my favorite series of books for grown-ups. I love watching the growth in the characters as they take on new roles. I'm really impressed that Ms Koch is willing to change things for her characters. In this book, the characters acknowledge the differences and the difficulties the changes have caused - but those difficulties are what keep the story moving and keep the characters interesting. I don't want to give anything away, but there are more changes in store for Kitty and Jeff as they get pulled further into the political side of life in DC. This story was over 500 pages - you'll get your money's worth on this one! And I'm ready to read it again to really notice the hints and humor (I usually blow through a new book in this series on a first read through because I
have
to know what happens. Then I read through it again to get me through the 6-8 month wait for a new story.) I love the sass and the strength of Kitty and I am looking forward to working my way through the whole series again this summer - this is comfort reading for me!
4 out of 5 stars
Recommended for: fans of the series. I think this might be a frustrating read for someone who starts with this book. If you like funny science fiction, go back to
Touched by an Alien
and discover this great series for yourself (I'm having my husband read it this summer so we can talk about its awesomeness together).
Cautions: Some language and adult relationships