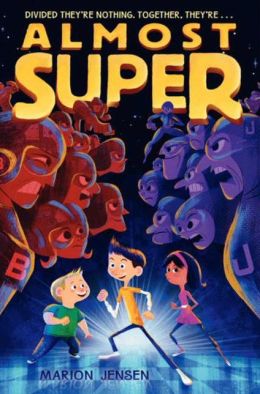 The Baileys are superheroes. Family members get their powers on leap day after they turn 12 (or after they marry into the family). Rafter Bailey and his brother Benny are so stoked about getting their powers. But when the moment comes, their powers are lame. Now they are relegated to the motor pool and to staying in public places so they don't get trapped by a member of the evil Johnson family of supervillains who goes to their school - eighth grader, Juanita Johnson. But Rafter starts to notice that things don't add up about the lame powers and the Johnsons. Can he trust Juanita enough to share his suspicions and see if they can figure out what is
really
going on?
This was delightful!! Rafter is smart, looks out for his brother, and is willing to question the status quo in favor of getting to the truth. The kids lead the way for the adults and have a great adventure that sets up a series. This releases in January. I can't wait to get this into the hands of my students (and my son!).
5 out of 5 stars
No AR reading level yet - this book releases January 21st, 2014
* I received an e-copy of this book from the publisher for free in the hope that I would review it honestly on my blog. Regardless, I only review books I enjoyed. I don't believe in passing on negative reviews. I am disclosing this in accordance with the Federal Trade Commission's
16 CFR, Part 255
: "Guides Concerning the Use of Endorsements and Testimonials in Advertising.