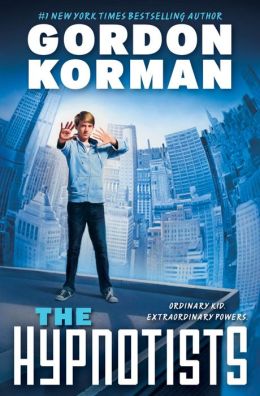 I received an uncorrected review copy of this book from the publisher at ALA this summer. This is also one of our Scholastic Book Fair books.
Jax has no clue that the crazy things happening to him - like the star basketball player who can't seem to even dribble a ball around Jax, or the bus that he's on careening through town when he tells the driver to hurry - are because he is hypnotizing people with is color-changing eyes. Turns out Jax is a powerful hypnotist in a long line of family members with the power. And he's invited to work with the Sentia Institute. While he is cautioned to "use his powers for good," Jax discovers that everyone doesn't play by those rules - and they're using Jax to get what they want.
This was a good suspense story. It reminded me of the book
Sound Bender
. Jax is a likeable character who evolves from clueless kid to a young man of integrity. Jax is up against a dangerous foe and this book ends with a set up for a sequel. My students are going to love this one - adventure, suspense, kids standing up to adults with dishonest motives.
4 out of 5 stars
AR Reading level of 5.5