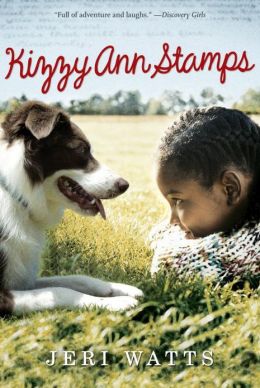 A beautiful story about a young black girl living on her family farm and going to an integrated school for the first time in 1963. The story starts as letters written by Kizzy Ann to her new teacher in the summer before school starts. It continues once school begins as journal entries, still written as letters to her teacher.
Kizzy Ann is a fantastic character! So honest and authentic as she shares her observations about integration and race relations as well as the mood in the country after President Kennedy is killed, which happens in the middle of her school year. The story centers around Kizzy Ann's relationship with her dog, Shag - how Shag cared for Kizzy Ann when she was scarred in an accident, how Kizzy Ann cared for Shag when Shag was hurt protecting Kizzy Ann, and how Kizzy Ann learned to train Shag to herd sheep. It is also about family and friendship and community.
I don't usually read historical fiction. I only read this because it was a preview book I received for our Scholastic Book fair last month. But this touched me greatly. I had the same reaction to this as I had to
Inside Out and Back Again
last year. There are 2 swear words in this book. I sincerely hope that won't keep students and parents and teachers from spending time with this exceptional story. This will have appeal for animal lovers as well as kids who like historic or realistic fiction. Teachers might be able to use this in their writing instruction/emphasis.
5 out of 5 stars
AR Reading Level of 5.2