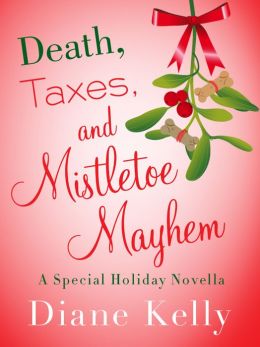 Tara Holloway goes undercover to expose a case of tax and insurance fraud and meets Office Megan Lutz and her K9 partner, Brigit, on the job. Working together, Tara, Megan and Brigit may be able to bring down a criminal or two AND do some holiday matchmaking.
Always on the hunt for new holiday reading material, I jumped on the chance to read this novella for free on my Nook while sitting in Barnes and Noble. I enjoyed the writing so much after one chapter, I spent the $2 it took to buy the story outright.
This merges characters from Diane Kelly's Tara Holloway series (covers displayed below) with the characters from an upcoming series that will debut in June of 2014 (the first book will be
Paw Enforcement).
I had a couple of the tax series books already in my TBR pile (To Be Read), but I moved the series up on my reading list as I enjoyed this as much as I did. For the price, this is an excellent introduction to the author's writing style and the characters of these series.
4 out of 5 stars
Cautions: some language