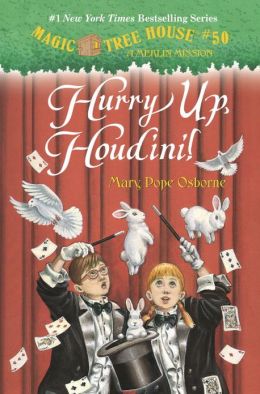 Jack and Annie travel back to Coney Island, New York in 1908 to meet Harry Houdini and learn his "secret of greatness." Along the way, the siblings get in an argument because Annie makes decisions for their mission without considering Jack. He is fed up! In fact, he stomps off, taking with him something Annie will need to pull off her latest scheme.
It's hard to believe this is the 50th Magic Tree House story! This is a good story, but
Abe Lincoln at Last
is still my all-time favorite. There were fun surprises in the story, and I liked the realistic bickering between the siblings. The books in the series work in sets of four. The kids are usually looking for a series of objects or pieces of information. This is book two in this particular set. The next book,
High Time for Heroes
will release in January, 2014 and will feature Florence Nightingale.
3 out of 5 stars
AR Reading level of 3.7