One of the highlights of my summer was our trip to Chicago for vacation and for the American Library Association annual conference. Publishers graciously provided Advance Reader Copies (ARCs) of some of their upcoming books and I have been slowly working through my pile of these treasures. For the next couple weeks I'll be reviewing some of the books I picked up at ALA. If a book hasn't released yet, I'll post the release date in the review. Enjoy!!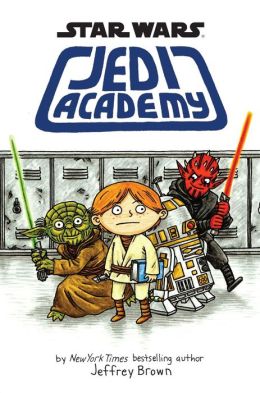 Roan is all set to go to pilot school like his dad and brother - but he didn't get in.... Then he's invited to the Jedi Academy instead.
This was a big hit at our house. My son and I both received ARCs of this one. My son finished his in a matter of hours as we walked around the exhibit floor at ALA. We even got to meet the author. This is a typical school story, complete with bullies, making friends, adjusting to teachers, crushes, dances, etc. The setting is what makes this story stand out! The format is also special - it's a combination of graphic novel-like pages, letters, and other kinds of page layouts. Very clever! First in a planned series. This story takes place 200 years before the movies.
I expect this to be in my fall book fair, and I expect it to sell out quickly and repeatedly!
4 out of 5 stars
AR reading level of 3.8
www.scholastic.com