One of the highlights of my summer was our trip to Chicago for vacation and for the American Library Association annual conference. Publishers graciously provided Advance Reader Copies (ARCs) of some of their upcoming books and I have been slowly working through my pile of these treasures. For the next couple weeks I'll be reviewing some of the books I picked up at ALA. If a book hasn't released yet, I'll post the release date in the review. Enjoy!!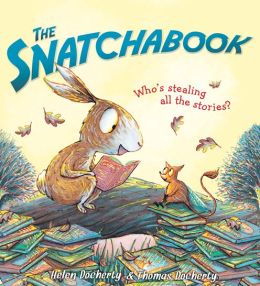 The animals in the forest are losing their story books! They are being snatched away by a Snatchabook. He's not trying to be mean. He just has no one to read him a story of his own. Maybe Eliza the rabbit can fix this problem for everyone.
Sweet story and lovely illustrations. Eliza is a great problem-solver, and I fell in love with the Snatchabook! I had seen ads for this book for months before ALA, and one of my first stops in the exhibit hall was to pick this book up. I was not disappointed. This will be a great read-aloud for the classroom or the library.
Releases in October, 2013
www.sourcebooks.com
4 out of 5 stars