One of the highlights of my summer was our trip to Chicago for vacation and for the American Library Association annual conference. Publishers graciously provided Advance Reader Copies (ARCs) of some of their upcoming books and I have been slowly working through my pile of these treasures. For the next couple weeks I'll be reviewing some of the books I picked up at ALA. If a book hasn't released yet, I'll post the release date in the review. Enjoy!!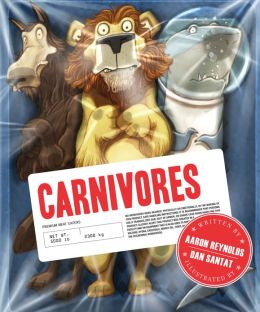 A quirky book about a shark, wolf and lion wrestling with their identity as carnivores. When their taste for meat keeps the other animals from liking them, they try vegetarianism and other ideas. Eventually they accept themselves for what they are - carnivores.
I received a regular copy of this, not an ARC, from ALA and the folks at Chronicle Books (www.chroniclekids.com). The illustrator is Dan Santat, one of my favorites. His illustrations draw me immediately to a book! This one was a lot of fun. I'm looking forward to sharing this with my students this fall.
4 out of 5 stars
No AR reading level at this time