One of the highlights of my summer was our trip to Chicago for vacation and for the American Library Association annual conference. Publishers graciously provided Advance Reader Copies (ARCs) of some of their upcoming books and I have been slowly working through my pile of these treasures. For the next couple weeks I'll be reviewing some of the books I picked up at ALA. If a book hasn't released yet, I'll post the release date in the review. Enjoy!!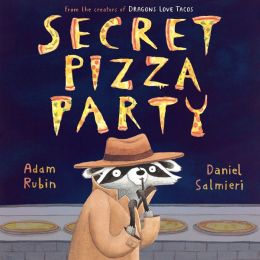 A raccoon who loves pizza gets advice from the narrator for throwing a secret pizza party.
Cute story! Will appeal to pizza fans as well as those who enjoy a story where the readers know the secret but the folks in the story don't. This will be a great story to read out loud to students.
3 out of 5 stars
Releases September 3, 2013
Penguin/Dial books for Young Readers