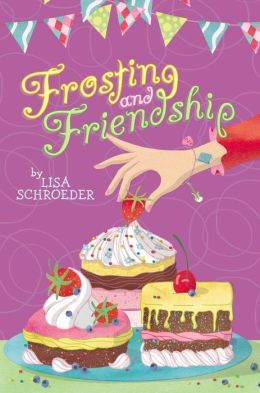 [I received an electronic review copy of this book from the publisher.
Frosting and Friendship
releases on September 24th. It is a follow up to
It's Raining Cupcakes
and
Sprinkles and Secrets
.]
This book could have easily been called "Lily Learns to Be Herself," because that is at the core of the story. Lily wants so badly to be as close to Sophie as Isabel is, that when their mother-daughter book club chooses the name "Baking Bookworms," Lily can't bring herself to tell them she can't bake. When Isabel asks Lily to help her plan the "perfect" surprise party for Sophie, including a rival band's performance and an "amazing homemade desert" made by Lily, Lily just keeps saying yes. But the more Lily says yes to trying to be someone she's not, the more she alienates her other friends and bandmates. Before long Lily will have to decide who she wants to be.
This was a great story with likable characters - my students, especially the ones who liked the first two books will "eat" this one up! For me, as an adult, sensing where the story was going early on, I kept wanting an adult to clue in and help Lily prioritize her choices or learn to say no. But in the end, it was best for Lily to see where her choices led and figure out a solution on her own - which came with some help from her friends.
4 out of 5 stars
The other two books in this series have been leveled at third grade by Accelerated Reader. I think this will appeal to girls in second and third grade and up.