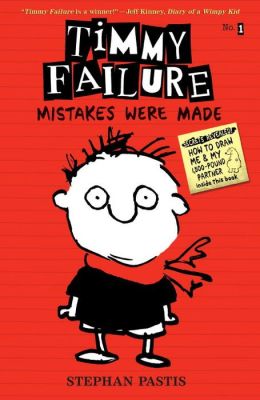 Timmy Failure and his polar bear, Total, run the Total Failure, Inc. detective agency. Timmy is just certain that he will get his big break soon and his mom won't have to worry about bills any more. His big case at the moment, though, is finding out who stole the Failuremobile (his mom's Segway) - and he's pretty sure it's his nemesis, she-who-must-not-be-named.
This is a quirky story in the style of
Diary of a Wimpy Kid
or
Dork Diaries
or
Big Nate
with cartoon-ish illustrations to accompany the story. Frankly, I liked this better than the one Wimpy Kid book I have read, and I think it will be a hit with my students. Timmy is so completely earnest and completely clueless that he is endearing. The fact that his side kick is a polar bear is delightfully unusual. Check out Timmy's first story and keep an eye out for book 2,
Timmy Failure Now Look What You've Done
coming out in February 2014.
3.5 out of five stars
AR reading level: 3.8
Recommended for: Fans of Wimpy Kid or Big Nate or Dork Diaries, kids looking for funny stories, classroom and school libraries