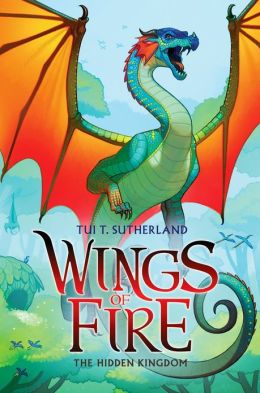 It's Glory's turn to find her tribe and find out where she comes from. After hearing about the "lazy Rainwings" all her life, she's disappointed to find out that the label is based somewhat in fact. It's not so much that they're lazy, but they need sleep - in the sun - to regenerate and build their strength. And they are completely disinterested in the war, the outside world or any goal-oriented or driven behavior. It's just not their nature. As Glory gets to know the tribe, the dragonets stumble into trouble - first a mystery of missing Rainwings and then secret passages to distant parts of Pyrrhia (like the Icewing kingdom and the Nightwing kingdom....) - and that's only the beginning of their discoveries.
The third entry in this series about a dragon world at war was outstanding! By now it's pretty obvious to readers that each book will focus on one of the dragonets and one of the dragon types. But this volume delivered so much more, with hints and glimpses at two tribes we've not seen much in the previous books. This whet my appetite for the next book more than either of the first two books did (and I
really
enjoyed those books). This will not disappoint series fans!!
5 out of 5 stars
No AR rating at the time of this writing
Recommended for: Fans of the series (this is a series where it really helps to read the books in order), readers who enjoy fantasy and adventure stories or dragon stories.
Sneak Peak - Book 4,
The Dark Secret,
releases October 29th - I can't wait!!