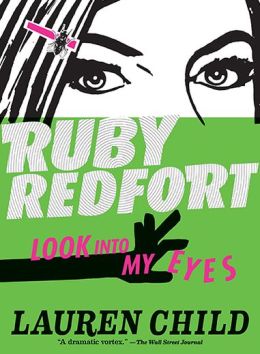 Ruby Redfort is a brilliant girl - an observant, code-cracking jr. high student - who finds herself in the middle of several mysteries.
1) Where did
all
of her family's possessions disappear to one day while she was at school?
2) Who is the not-quite-right butler ("household manager") who showed up that same day?
3) What's up with the coded phone call she receieved?
Ruby and her best friend Clancy have a lot of codes to crack and clues to follow to sort out all the mysteries swirling around them
This was a
great
mystery with brave and smart protagonists and plenty of loose threads to pick up in a sequel (
Ruby Redfort Take Your Last Breath
, available now). Lauren Child is the author of the Charlie and Lola books (that were turned into a TV program on Disney Channel a few years ago) and the Clarice Bean books. I haven't read Clarice Bean, but apparently Clarice reads Ruby Redfort books and that's what prompted Child to write this series. (Clarice Bean is on my reading list for this summer, too.) And I am so glad. I can't wait to put this into the hands of all the students who ask "Where are your mysteries?"
5 out of 5 stars
AR reading level of 5.6
Recommended for: fans of Clarice Bean, mystery fans, readers looking for strong female characters
[
Just a side note - this is my 900th post! How exciting! Might have to plan something extra fun for number 1000.]