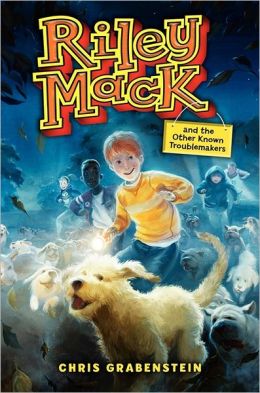 Riley Mack is known as a "trouble maker" by the local police chief, but in reality, he and his "crew" are righters-of-wrongs - they look out for the little guy. It's like
Ocean's Eleven
for kids - disguises and schemes designed to save the day... if they all go as planned. And there are a lot of wrongs to be righted - bullying kids, bullying grown ups, embezzlement, theft, puppy mills - and a lot of schemes that could go very wrong.
I loved this book! The various schemes made me tense and there were plenty of things going on outside what the kids knew that added to the tension and kept me turning pages far past my bedtime. I would love to read this one out loud - I think it would be a great one for a class to enjoy together and talk about as they read it. Book two is out -
Riley Mack Stirs Up More Trouble
- and on my summer Must Read list.
Five out of five stars
AR reading level of 4.2
Recommended for: classroom reading, fans of contemporary stories (no fantasy or magical elements in this one) and/or animal stories, fans of capers/kid spy stories