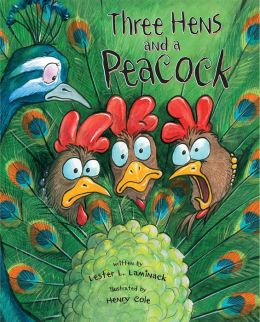 This is a lovely story - with lovely illustrations - about being yourself and doing what you were made to do. A peacock finds himself on a farm and his fancy feathers get him all sorts of attention. The hens become bitter about doing all the work, so the birds switch places. The peacock tries to sit in the henhouse and lay eggs while the hens try to drum up attention and business for the farm.
4 out of 5 stars
AR reading level of 3.3
Recommended for: peacock fans (like me!), read-alouds, lessons on being yourself, Bible lessons about the importance of all the parts of the body of Christ.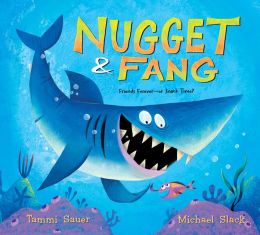 The sub-title for
Nugget and Fang
is "Friends Forever - or Snack Time!" Fang the shark and Nugget the minnow are best buds - until Nugget goes to school and learns that sharks and minnows can't be friends. Fang tries everything he can think of to win Nugget's friendship back, but nothing works. But when the minnows are in danger, will Fang come to their rescue?
5 out of 5 stars
No AR quiz at the time of this writing
Recommended for: everyone! I love this story more and more, every time I read it! This would be great for general read-alouds, but also for discussions of life under the ocean, and lessons about friendship.