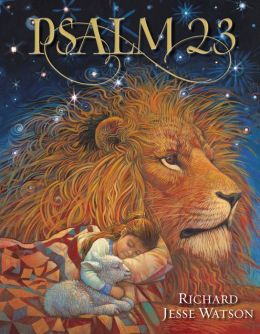 The illustrations are what make this book amazing. This was one of the books in our school's spring Scholastic book fair. Several people were convinced to buy this one simply from looking at the full spread illustration that matches this cover picture. It would give you chills to see it in person.
The text of Psalm 23 is laid out throughout the book with these gorgeous illustrations that just beg you to pull up a chair and enjoy them over and over again.
4 out of 5 stars
Recommendations: This would make a lovely gift - for new parents, for a christening/baby dedication, for a friend struggling with an illness or other difficult life circumstances. There are also folks for whom this Psalm is especially significant - I think this presentation is one worth adding to a collection.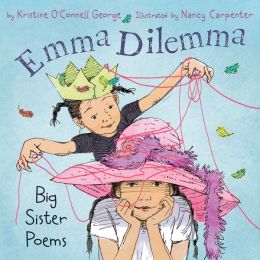 This is a delightful "story" of poems by the big sister about her littler sister - the little sister who can be a big pain and a big treasure to her older sibling.
I am an only child, but the emotions and the relationship reflected in the poems seems to fit the women around me with sisters and the stories I hear from them. The voice is great and the format makes it great for use in a school.
5 out of 5 stars
AR reading level of 3.3
Recommended for: sisters, classroom use for general reading as well as for poetry units.