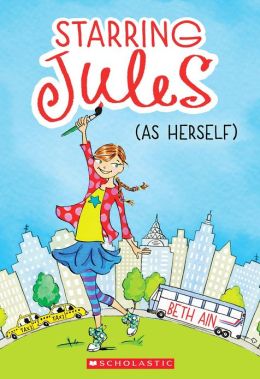 Seven year old Jules gets "discovered" and has a chance to be in a commercial. But she'll need help from her ex-best friend, her new best friend, her best guy friend, and her awesome family to even get through the audition. [First in a new series. Book 2 debuts on September 1.]
Very nice story about friendship with a fun main character. This could make a great read aloud in a classroom - quick pace, plenty of events to respond to in discussion.
4 out of 5 stars
AR reading level of 4.0
Cautions: One of Jules' friends is into astrology. Jules dad calls it "hooey" but Jules wonders if she should believe it. I don't know if that is going to be a factor in future stories or if it was just a small thing here. Families that don't believe in astrology can enjoy good discussion about their beliefs as they read Jules together.