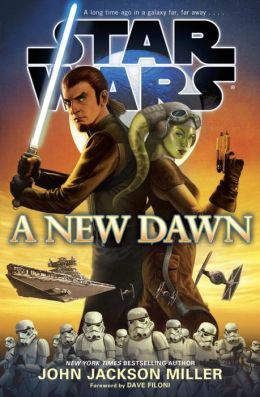 Star Wars Rebels is the latest Star Wars property, starting with a new TV show on Disney XD. These two books are part of the new story line which takes place between movies III and IV from the original six movies.
Star Wars A New Dawn
This story introduces Kanan and Hera (from the TV show) and tells how they ended up working together. It is an intricate story that starts with Kanan and the people in his life in a mining colony and Hera who seems to be doing reconnaissance for herself or for an unknown group. There is also an emissary from the Emperor who is there to see that the mining facility meets the ridiculously high quotas set by the Empire. There is a bomber and a security officer and a substitute ship's captain. All of the different story lines converge in the main plot and action of the story.
This book gives some insight into what happened after the destruction of the Jedi. The Empire is represented by individuals who seek power and will go to any means in order to achieve it - not a surprise to anyone familiar with the movies. The book is long and it took a several chapters to find a rhythm, but once the action got moving, I enjoyed the story and it left me wanting more back story and more adventures with these characters.
4 out of 5 stars
* I received an electronic copy of this book from the publisher for free in the hope that I would review it honestly on my blog. Regardless, I only review books I enjoyed. I don't believe in passing on negative reviews. I am disclosing this in accordance with the Federal Trade Commission's
16 CFR, Part 255
: "Guides Concerning the Use of Endorsements and Testimonials in Advertising.
Edge of the Galaxy
Zane Leonis just wants to get through the next year at the Junior Academy for Applied Sciences so he can move on to the Imperial Academy and train to serve the Empire like his sister. But this one school year is going to challenge everything he believes about the Empire.
Of the two books, this was my favorite. Because it is written for kids, it is much shorter and the story is tighter. There's great action and it gives insight into how "regular folks" are interpreting the actions of the Empire early on and why they would support it. There isn't a direct connection with the characters on the TV show, but this is just the first book in a new series of original stories. This is a series I plan to keep up with.
4.5 out of 5 stars