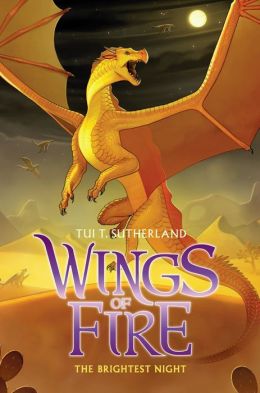 I've got a couple extra reviews this week and next - there have been some great new releases lately and I don't want to wait to tell you all about them!
Book five of the Wings of Fire series starts with Sunny's kidnapping (this was part of the teaser in book four) and keeps the action focused on Sunny for most of the book. A lot happens in this story - and I don't feel like I can tell you much because I don't want to give anything away! Some old "friends" re-appear in this book and some more questions are answered - questions about Sunny as well as questions about the larger story. Frankly, this book could almost be the end of the series, and it would be a very satisfying end. But the author has
promised 5 more books
, so there are still questions of prophecy, leadership, and the future to be answered by the dragons of Pyrrhia. Sunny really comes into her own in this book in a very satisfying way. This was a fantastic piece of the larger story. I'd say book three and this book have been my favorites.
If you haven't read this series, I would definitely recommend starting with book one. I think readers will appreciate the insight into each dragon that comes from discovering the stories in order.
Five out of five stars
No AR quiz at this time