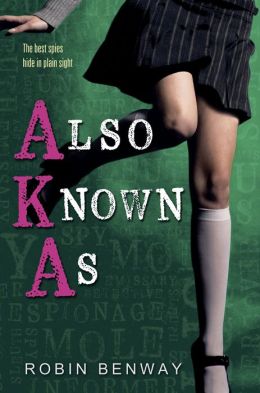 Maggie Silver is a master safe-cracker in a family of spies. She is also a high school student. She is sent undercover to get information from the father of one of her classmates - information that could expose her family and other spies working to keep the world safe. She has no idea how cute the classmate is, or how quickly she might fall for him. Can Maggie maintain her cover and get the information without getting her heart broken?
I
loved
this book! I laughed out loud so many times and even had to read some passages to my husband because they were so great. Maggie has a fantastic voice - sassy, sarcastic, confident - but she also has a sweetness about her as she has her first boyfriend and a fierceness when it comes to standing up for herself and her ability to do her job to those who doubt her. The core characters - Maggie, her friend Roux, and her boyfriend Jesse - are fantastic together. I'm looking forward to reading the next book in the series,
Going Rogue
(pictured below)!
5 out of 5 stars
AR reading level of 4.2, interest level of Middle Grade + (6th grade and older). There's underage drinking, prescription drug use, language, and other references that make this a better fit for teen readers than my elementary students. Personally, I would recommend this more for high school than middle school readers. Adults who enjoy middle grade fiction, should check this one out - it was great fun to read!