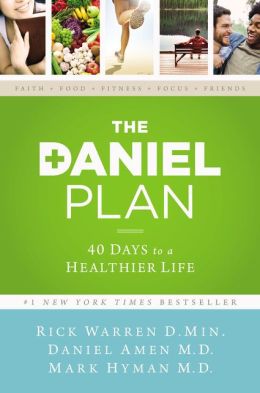 Pastor Rick Warren tells the story of his realization that his physical health and well-being as well as that of his congregation was a spiritual issue that the church had not been addressing adequately.
The Daniel Plan
describes the program that the church put into place that led to a lot of positive change for the people of Saddleback Church. There are five principles that anchor the Plan: faith, food, fitness, focus and friends. I think the two important pieces are the first and the last. The faith piece asserts that we would all be healthy if it was something we could do under our own power. But since so many of us struggle with weight and healthy eating and lifestyle, we need to rely more on help from God to make positive and healthy changes in our lives. The friends piece piggybacks onto that idea of needing God by also saying we need each other. A community (a group or even a partner) can help with accountability and encouragement on the journey.
There are a slew of resources to go along with the book, including a cookbook and a journal, pictured below. If you are looking for a resource to help you tackle some health issues or to rejuvenate your New Year's resolutions, check out
The Daniel Plan.
4 out of 5 stars