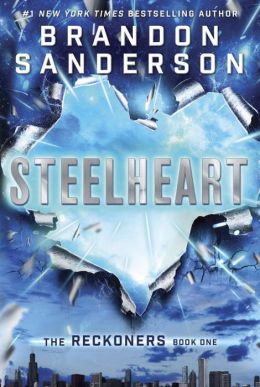 Ten years ago, the Epics were still something of a mystery. Granted superpowers by something called Calamity, it was still unclear if those powers would create superheroes or supervillains. Ten years ago, David stopped wondering which it would be when he watched the Epic, Steelheart, kill his father. That day, eight-year-old David lost his father's hope that heroes would rise up to fight the Epics. That day was the start of David's search for vengeance against Steelheart. In the present, David is hoping to join The Reckoners - a shadowy group that kills Epics. They could be just what he needs to finally get justice for his father. And David could be just what the Reckoners need, too, because he has seen the "invulnerable" Steelheart bleed.
This was fantastic! This could have been a really dark, depressing story, but it wasn't. The world building is excellent and well-thought out. This is a great twist on the superhero genre. The characters are interesting and likable - David is smart and intuitive, but also awkward around girls like a teenager who has been on his own and living in tunnels under the city for years. The Epics are original - there are tiers of power levels, hidden weaknesses to find and exploit. My copy is a "special" one from Barnes and Noble that includes an annotated chapter with the author's notes, which was also very cool. I found out that there's a short "book 1.5" available for e-readers (called
Mitosis,
pictured below) and that book two,
Firefight
, will be out in the fall of this year. I am ready to pre-order book 2 as soon as I can! You can go to the
author's website
to read sample chapters or watch the book trailer.
4.5 out of 5 stars
Cautions: I was happy to see that the author made up some words for the moments when the characters would swear - it fit with the "otherworldly" setting and feel of the story while also making the book accessible for a large group of readers. The story is violent at moments - the Epics are pretty nasty beasts and The Reckoners are trying to kill them. But the violence is not graphic, in my opinion. I think this book would appeal to adult and teen readers, both.