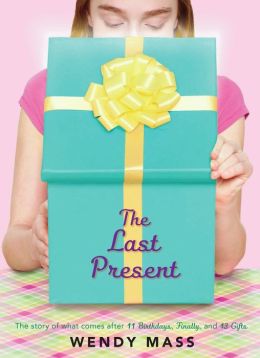 The events from
11 Birthdays, Finally,
and
13 Gifts
wrap up in this Willow Falls story with all of the folks from earlier stories. Leo and Amanda can
finally
talk to each other, which is a good thing because Angelina is sending them back in time to each of Grace's birthday parties to fix things that have gone wrong. Now Grace is in some sort of coma and no one knows why.
Fun story, good mystery. There are some funny moments that are possible in this story because there's a group of kids working together who all know about Angelina and her "projects." There's some romance (kissing, hand-holding) between the kids in the story. I haven't read the other books in the series for awhile, but I was able to follow this story without difficulty even though I don't remember the other stories in detail.
4 out of 5 stars
No AR Reading Level at this time
* I received an Advanced Reader Copy of this book from the publisher for free in the hope that I would review it honestly on my blog. Regardless, I only review books I enjoyed. I don't believe in passing on negative reviews. I am disclosing this in accordance with the Federal Trade Commission's
16 CFR, Part 255
: "Guides Concerning the Use of Endorsements and Testimonials in Advertising.