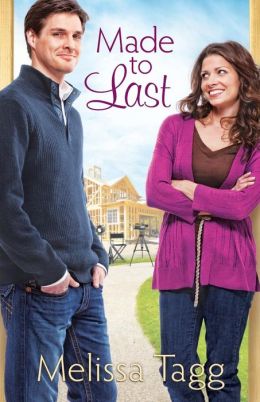 Miranda Woodruff is the host of a TV home-improvement show. In each show she talks about the impact her husband has made on her design and building ideas. But in reality, Miranda doesn't have a husband. She was supposed to. They were engaged when she started the show, and it was easier to say they were married since they were already living together. But then Robbie left. In her heartbreak, Miranda didn't have the courage to clear up the situation. And deep down, she always hoped Robbie would return. But now, as she's filming the fourth season of her show, the ratings are in trouble and the network wants to build publicity by introducing the mystery husband to the world. So they hire a guy to play the role. And he's a great guy. But at the same time a reporter starts shadowing Miranda for a daily blog and with that much access, there's a good chance he's going to discover Miranda's secret.
This was a nice romance story with Christian overtones. As Miranda struggles with her lies and the betrayals in her life, she wonders if she can ever get back to God. The fake husband and the reporter are also wondering about issues of faith. (The author only hints at the fake husband's backstory. I wonder if his story will be told in another book in the future.) The characters are likable. I could understand how Miranda got into this "pickle" and why she keeps it up as long as she does even though she is pained by the deceit. I tend to be skeptical when it comes to Christian fiction. Sometimes the faith portion is too heavy handed or feels forced, but this was a nicely balanced story.
3.5 out of 5 stars
Thanks to the folks at Bethany House for providing a review copy of this book.
* I received this book from the publisher for free in the hope that I would review it honestly on my blog. Regardless, I only review books I enjoyed. I don't believe in passing on negative reviews. I am disclosing this in accordance with the Federal Trade Commission's
16 CFR, Part 255
: "Guides Concerning the Use of Endorsements and Testimonials in Advertising.