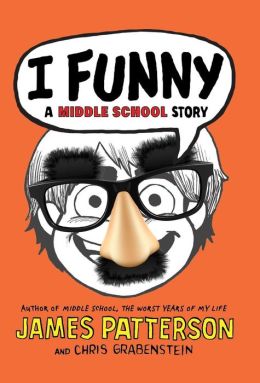 Jamie Grimm is a funny kid. With the encouragement of his uncle Frankie, Jamie enters the Funniest Kid Comic contest. As he prepares his material - and his nerves - for the competition, Jamie is also dealing with his family (an aunt and uncle and cousins Jamie calls The Smileys because they are the most serious and stoic people he has ever met), a bully (one of the Smiley cousins), and life in a wheelchair.
This is not a book I would have chosen to read for myself, but it is one of the books in our Scholastic Book Fair, so I read it in order to talk with kids and families about it. I was pleasantly surprised. I am not a Patterson fan in general, although this book makes me want to try one of his other Middle School stories.
But I do love Chris Grabenstein
, so I was willing to give this a try. Jamie is a fantastic character - funny, observant, resilient. I was appalled by the behavior of his cousin and I was sad that no one seemed to notice how Jamie is being bullied. But Jamie's attitude and his friends are delightful. I am looking forward to sharing this story with my students this fall! I think they will love the jokes and the artwork in the book and hopefully they will also love Jamie's character, bravery and perseverance.
4 out of 5 stars
AR reading level of 3.9