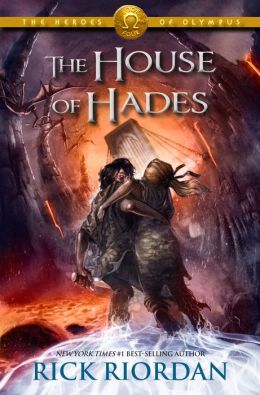 The Heroes of Olympus series continues with this dark and intense chapter in the saga. Annabeth and Percy are on the slow, painful journey to the Doors of Death from the Tartarus side while Jason, Piper, Leo and the rest are working to get to the House of Hades in Greece to close the Doors from the other side. Their success is essential if they want any chance of saving Camp Half-Blood from Roman attack or saving the world from Gaea and her forces.
Another great story for fans of this series and these characters. There's great personal development of several of the characters. I especially enjoyed the evolution of the character, Frank. The cliffhanger from book three is nicely resolved and things are set up for the final book in the series,
The Blood of Olympus,
which will be out in about a year.
Rick Riordan has been on a book tour since the book released, and we were fortunate enough to get tickets to see him in St. Louis last weekend. He spoke for about 45 minutes and then answered questions for another 10 minutes. And we laughed. Riordan is wonderfully funny. He shared great stories about his childhood, his family, and his journey as an author. It was a treat to see him in person and to see his presentation.
There is one chapter in the new book that has people talking - maybe you have heard about it. I want to stay vague for those who have not read the book yet. In this particular chapter, a couple characters come in contact with Cupid who badgers one of the characters until he admits that he has a crush on another male character. As a teacher in a Christian elementary school, I was initially frustrated by this. My students are so excited to read this book! They are fanatically curious to find out what happens to Percy and Annabeth when they fall into Tartarus. Because of this homosexual reference, I can't put the book in the library.
As an advocate for children's literature and literacy, I am hopeful that this will encourage parents to read this book WITH their children and talk about this chapter (as well as the rest of the book). That's what we are going to do at our house. I talked with one of my students about this situation. She is one of the kids who has been eager to read this book. Her mom is trying to decide how they want to handle it at their house. And we talked about why Riordan would put this in the book. He has been hinting that something is going on with this character for awhile. The character really struggles with these feelings. He is confused and embarrassed. He doesn't want people to know, and now one of the other kids does and he is defiant - daring this other character to treat him differently because of the information he has. I think Riordan included it because there's likely a section of his readers who are struggling with these same feelings and questions. I know some folks are thinking that Riordan just plunked this in to make his book politically correct. I don't think that's the case. Having heard him speak (he did NOT talk about this in his presentation), my sense is that he is intentional about his stories and about showing growth in his characters. This is something that has been weighing on this character - and continues to weigh on him and influence his behavior even through the end of this book. It's part of this character's evolution.
If your children are reading this series, I encourage you to talk with them about the book and about this chapter - no matter what your school of thought is about homosexuality. I think it is important for parents to speak into the spiritual and moral and social development of their children. Homosexuality is a factor of our culture that I'm seeing more and more in children's literature, and our children will be seeing more and more of it in their world.
4 out of 5 stars
There is no AR rating at this time.