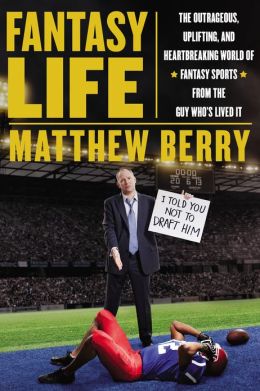 [A guest post by my husband, The Couch Cushion Quarterback. You can find him at his blog and on Twitter (@ccqscott)]
Matthew Berry, known to some as the "Talented Mr. Roto," is ESPN's Senior Fantasy Sports Analyst.
During baseball & football season he can be heard daily on either the ESPN: Fantasy Focus Baseball or
Football podcasts. On TV & radio he can be seen & heard on many different ESPN Network programs
discussing fantasy sports, especially Sunday mornings during the NFL season on ESPN2's Fantasy
Football Now. He also writes a weekly column for ESPN.com during the football season. Somewhere in
this busy schedule Berry found the time to write this book,
Fantasy Life
.
As someone who plays fantasy football, I've been a longtime fan of Berry - listening to his podcasts, reading his columns, and watching his shows - so when it came to this book, I was an easy sell. I was ready for all the stories about fantasy leagues, and the craziness that can be fantasy sports. I wasn't expecting that woven among the true stories collected from all sorts of fantasy players would be a narrative of Berry's personal journey. He shares how in 1985, at the age of 14, he joined his first fantasy league. This was before the age of the internet, back when stats were tracked by hand. From those early days to his post-collegiate career as a writer in Hollywood to writing for fantasy sports sites for free, readers see the path that Berry took to get where he is today. Berry also goes beyond his professional career and shares some of the highs and lows of his personal life culminating in his recent marriage that came with an instant family as well as adding to that family with the birth of twin girls all within a year's time.
This book covers the gamut of fantasy sports: the incredible wins, crushing losses, risqué trade
propositions, trash talk, and embarrassing tattoos for finishing last in your league. It also highlights the
camaraderie among league mates, the close knit bond that can help someone through a tough spot in
life, and the joy, as well as tears that can be shared through major life events. To sum it all up I would
have to borrow some words directly from the book, "It's like a love letter to fantasy sports," specifically
from a man whose life has truly been changed by fantasy sports.
Overall, I don't think you have to be a fantasy sports fan to enjoy this book. Sure, it helps to be familiar
with fantasy sports, but I believe even if you have just a passing interest, you will enjoy this fascinating
look at the world of fantasy sports. If not that, enjoy the story that is Matthew Berry's Fantasy Life.
Four out of five stars