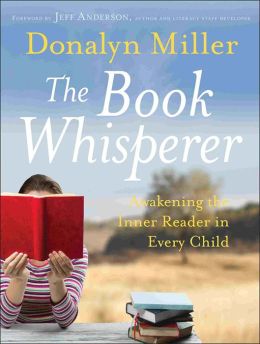 I brought a pile of professional development books home to read over the summer break. This one was top of my list (and the only one I actually got around to reading) and it was fantastic!
Ms. Miller shares the story of finding her way as a classroom teacher teaching reading. At first, she did all the things teachers are "supposed" to do - full class book analysis, daily language worksheets, etc. But she longed to establish a classroom where students read widely and willingly. And she has developed one. Her sixth grade students are expected to read 40 books a year, and they often exceed that number. She has a classroom library of over 2000 books, and she works diligently to link students to books that fit their interests. She conditions her students to take a book with them everywhere and to read any time they finish their work or if there is an interruption in the classroom. She has cut out anything that feels like busy work and builds in as much reading time for her students as possible.
Donalyn Miller is a "guru" in reading circles. She is part of the
Nerdy Book Club blog
, she
tweets
with other teachers/librarians/book fantatics, and she has a new book,
Reading in the Wild
that releases in late October or early November that talks even more about what readers do, and how we can build those skills in students.
5 out of 5 stars
I hope to add a couple copies of this book to a teacher resource portion of the library that I hope to implement this year. I hope the teachers enjoy it and find it as inspiring as I did!