I used Grammarly to grammar check this post because it's the beginning of the school year. I have 100 new names and faces to learn, piles of library books to shelve and 14 loads of laundry to run!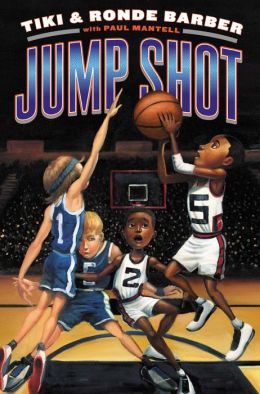 [I received an electronic review copy of this book from the publisher.
Jump Shot
releases on November 5th.]
Tiki and Ronde have finished their season of football, and the winter is dragging. The basketball coach has one open spot and asks the boys if one of them wants to play basketball. The twins discover the team star has sucked the joy and confidence from the team. Maybe if they can figure out why the kid is so angry, they can salvage a winning season for the team.
I have not read any of the other books in this series, even though I have a couple in the school library. I was pleasantly surprised by how much I enjoyed this one. I will definitely be adding the other books in the series to the library. This will appeal to my sports fans as well as other readers who just enjoy a good story with interesting characters. There were all sorts of great things going on in this book - the boys learned empathy for others, and rather than judging characters for their surface behavior, they looked for deeper issues. The adults in the story did not step in to fix things (One should have as it was his job), allowing the boys to exercise leadership and learn to speak the truth in a caring way. I enjoyed the way the boys' football skills of defense and offense tied into the basketball story. For one game, the brothers got to play on the court together, which was fun. I would say I followed about 85% of the basketball terms (there is a glossary in the book) but what I didn't know didn't keep me from enjoying the story.
4.5 out of 5 stars
Other books in the series are written at a fourth or fifth grade reading level, according to the formula used by Accelerated Reader.