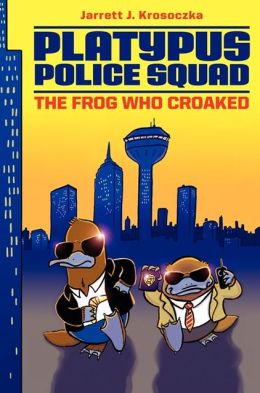 A new chapter book series from the author of
Punk Farm
and the Lunch Lady graphic novels,
Jarrett J. Krosoczka
.
Rookie Police Detective, Rick Zengo, and seasoned detective, Corey O'Malley, are working on a new partnership while working on the case of a missing high school teacher. The case will pull them into night clubs and construction zones and a recent rash of secret sales of imitation fish. The partnership is pretty rocky, too, as Rick is the gung ho rookie who wants to run his mouth and flash his badge while O'Malley wants to play things cool. And in every thing they investigate is Frank Pandini Jr., the son of a crime boss. Is Junior as benevolent and clean as he wants everyone to believe, or is he a chip off the old block?
This was delightful. I was expecting something a little lighter - an early chapter book sort of story for kids moving from picture books to chapter books - but this is a wonderfully intricate mystery for a wide range of readers. The buddy-cop premise has worked for ages and it totally works here. Zengo is eager and determined - which can be assets when paired with wisdom and discretion - things he needs to learn from O'Malley.
4.5 out of 5 stars
AR reading level of 4.9
[Side note: our family got to meet Mr. Krosoczka at ALA this summer and he was funny and gracious. We are happy to read anything he writes, including the next Platypus Police Squad book,
The Ostrich Conspiracy
as well as the next Lunch Lady book,
Lunch Lady and the Schoolwide Scuffle
which releases in January.]