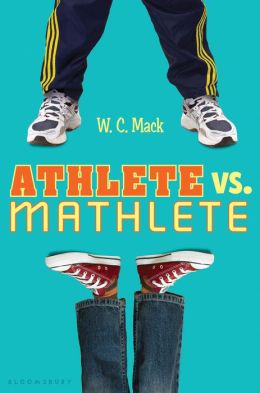 Owen is the basketball star. He played on the 6th grade team and should be a shoe-in for the 7th grade team - except they have a new coach who wants everyone to try out again! How absurd! And, as if that isn't bad enough, the coach sees Russell in the hallway and says he has to try out, too. Who's Russell? Owen's genius twin brother. Sure, Russell is tall (They are fraternal twins), but he has NO basketball skills. He's going to be a laughingstock - and Owen is sure he will be too, by association. But Russell turns out to have a jump shot and a real role on the team. If Owen isn't the only athlete in the family any more, who is he?
Russell has no interest in being on the basketball team. He has his Masters of the Mind team to lead and competition to prepare for. But when he sees some success on the court - and his dad starts paying more attention to him - Russell starts to wonder if he can have it all, sports and school. But basketball is enough of a distraction to give someone else a foothold in the Masters of the Mind. Russell has to decide who he wants to be.
I thoroughly enjoyed this story. I picked it up to scan it to see if it would be appropriate to give away to students and I was completely drawn in to the story and decided to read it cover to cover that day. It's a great story about identity as both boys, very different in temperament and interests, have to decide who they are and who they want to be. Interesting family dynamics are described but aren't the focus on the story. I'm looking forward to sharing this with my son as well as with students at school. A sequel releases in November.
Four out of five stars
AR reading level of 3.9
Recommended for: fans of sports stories and school stories, mid- to upper-elementary students, classroom reading. The "lower" reading level could make this a good match for reluctant readers or students reading a grade or so below grade level but it still looks appropriate for tweens.