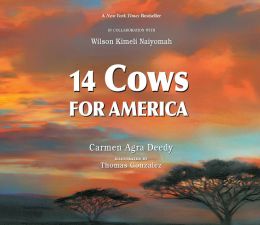 These two books were in our recent Scholastic Book Fair and both were related to September 11th, 2001. I was thrilled with the quality of non-fiction books Scholastic provided for our fair this spring, including these two books.
America Is Under Attack
includes detailed, personal stories of rescuers along with the details of what happened on that day in New York City. This was completely engrossing! My students, most of whom were babies or not yet born when the attacks took place, can't get enough information on what happened that day. They will devour this book! Rescuers and victims are mentioned by name - some survived and others did not. The information is honest while not being emotionally overwhelming.
Five out of 5 stars - excellent!
AR Reading Level of 5.8
14 Cows for America
is also a picture book, this time a touching story of how a tribe in Africa responded to the tragedy of September 11th with a gift of cherished cows. Yes, cows. It sounds odd, but as you read the story and understand the culture of the Maasai in Kenya, readers see the beauty and heart of the gift. Lovely story, lovely pictures
Four out of 5 stars
AR Reading level of 4.1
Recommended for: readers interested in the events of September 11th, readers who enjoy stories about global culture or about non-American culture.