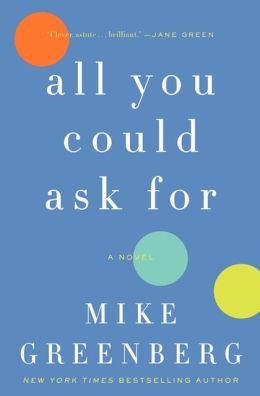 Brooke is almost 40, has a perfect family, is content with her life, but wants to spice things up a little.
Samantha is on her honeymoon when she discovers something about her new husband she didn't want to know. But that discovery leads her to discover some good things about herself.
Katherine is a high-powered corporate big wig still dealing - every single day - with a betrayal from twenty years ago.
Three unconnected women, living life with its ups and downs, become connected by breast cancer - each with a different prognosis and each determined to handle her illness in her own way. A powerful, emotional and lovely story.
A couple weeks ago my family and I went to a Barnes and Noble about an hour from our house in order to see Mike Greenberg (from ESPN's Mike and Mike) for a book signing. I started the book that afternoon as I waited for the signing to start and finished it the next afternoon. My husband started the book that night and finished it the next day.
The book starts out with snippits from the lives of these three women. One part from Brooke's story would link it in some way to Samantha's story and so on until the reader started to get a better feel for each character. It didn't take long to get lost in the story of these women. There's a significant amount of time devoted to establishing who these women are - a snapshot of
this
time in their lives, choices they are making, etc., before adding the breast cancer piece. The novel was inspired by the cancer journey of a friend of the Greenberg family - an inspiring story of women coming together to care for a friend. If I hadn't known who had written the book, I would never have guessed it was written by a man - Mike captured the voice of his characters in a way that felt genuine and spot on. The characters and their stories have the potential to really hang with you. There was one character in particular that my husband and I have talked about a lot, especially regarding her approach to dealing with her illness.
4 out of 5 stars
Recommended for: Fans of women's fiction, fans of stories with strong characterization, readers looking for a touching story, book groups
Cautions: Language and adult circumstances