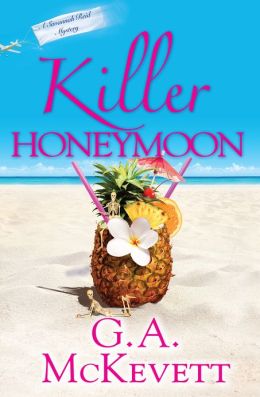 [I received an Advance Reader Copy of the latest Savannah Reid mystery from the publisher. The book releases on March 26th.]
Savannah and Dirk are finally married and ready to enjoy a honeymoon away from Savannah's family and the perils of their jobs (private detective and cop, respectively) and the trials that complicated their wedding (see Monday's review of
Buried in Buttercream
). But their getaway is quickly spoiled when they witness a shooting on the beach. The local police seem to be doing all they can to sandbag the case, leaving Savannah, who held the woman's hand until she died, determined to find justice for the victim.
Another great chapter in this series. There is less emphasis on Savannah's injuries from
A Decadent Way to Die
than in the previous book, but they still inform the story. There's some nice backstory for both Savannah's childhood and Dirk's, and a great teaser for what's probably coming in the next book. The mystery was good - no clear suspect early on, keeping the reader guessing for awhile about how all the pieces fit together. I thought the personal bits about the characters fit well inside the larger mystery story - neither part was a distraction from the other, but everything flowed. I think I appreciate this series more than usual, getting to read two pieces so close together (rather than a year apart from release to release).
4 out of 5 stars
Recommended for: mystery fans, fans of the series, fans who enjoy a good dose of personal stories with their series characters
Cautions: some language.