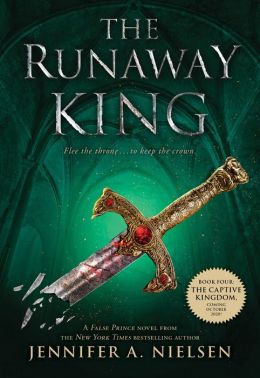 The False Prince
was probably my favorite book of 2012 - and I read around 140 books last year. That's a tough act to follow.
The Runaway King
did a great job.
Jaron is in trouble. He might be King of Carthya, but people are still trying to kill him. His regents don't trust him, and he's convinced his kingdom is in danger. His solution? Disappear. Blend in with those trying to harm his country and try to change things from within. But nothing in Jaron's life has ever gone smoothly - or according to plan. He will need all of his wits and cunning and a good bit of luck - and maybe an actual friend or two - if he has any hope of surviving or saving his kingdom.
This was a great follow up to
The False Prince
. Jaron is sassy and sarcastic, which is something I enjoy in a character. There is a TON of action - every time things seem to be going right, they go wrong. I had to read this in small bits until I could get to a weekend and really plow through the whole thing because I knew once I let myself get into the rhythm of the story, I wasn't going to want to put it down. I am thrilled to share this one with students - and in my own home. I am making my husband listen into our nightly chapter(s) of both
The False Prince
and
The Runaway King
so we can enjoy the story together as a family. I have mixed feelings about book three - eager anticipation and dread of coming to the end of a great story.
4 of 5 stars
No AR reading level at the time of this writing.