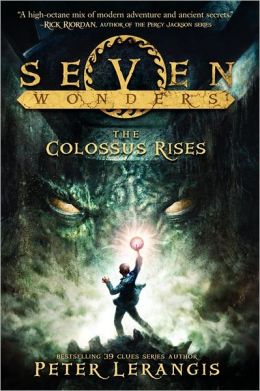 [This is a guest post by my husband!]
When we meet Jack McKinley, he is your typical 13 year old waking up and getting ready for school. Only Jack's home alone. His mother has passed away and his farther is in Singapore for work - and Jack's "nanny" has quit in the middle of the night and left only a note. From there, Jack's day only gets more interesting. By the next morning, Jack is on a "secret" island at the Karai Institute with three other teenagers - Aly, Cass and Marco - and Jack finds out that all four of them run the risk of not living past their 14th birthdays.
Professor Radamanthus Bhegad, the head of the Institute, tells Jack that he and the other teens are descendants of a long lost civilization and a genetic trait - which has the ability to give them "super powers" - is also what is killing them. The key to saving Jack and his new friends are seven magic Loculi which were stolen from the lost civilization and hidden around the world.These Loculi must be found before they fall into the wrong hands and the world falls prey to disaster.
Seven Wonders: The Colossus Rises
jumped out at me from the shelf when I saw a quote from Rick Riordan on the front cover. I loved the Percy Jackson books and I took this as a sign I might enjoy this series as well. The author, Peter Lerangis, is no stranger to writing a book for a series and does a nice job setting up the basis for this series. I must admit, initially, when I started reading things were moving very quickly in this story, but I didn't find myself fully engaged. However, by the end of the book, I was ready for the next installment to begin and continue the momentum started here. Fortunately, the wait will not be too long, as the next book,
Lost in Babylon
, is due this fall.
4 out of 5 stars
AR reading level of 4.1
Recommended for: readers in 4th or 5th grade and older, fans of fantasy/adventure stories