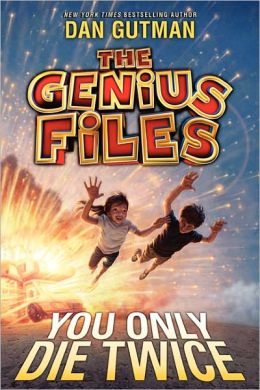 Book three in the Genius Files series! You can read about book one
here
and book two
here
(both have an AR reading level of 4.8).
In the third adventure, Coke and Pep are still trying to recover from the surprise ending of book 2. They made it to Washington DC for their aunt's wedding and now they are going to travel back across the country to their home in California in an RV with their parents, stopping at every random roadside attraction and museum their mom can find along the way. Early on, it looks like maybe they aren't in danger any more. Maybe no one will try to kill them on the way back home! But Coke and Pepsi aren't that lucky. There's a new villain tracking them this time along with some old "friends," new ciphers, and plenty of family "fun" cooped up in an RV together.
I thoroughly enjoyed this book! Great adventure, great humor, another nice cliffhanger at the end. The author is in talks to make the series into a movie and if they stay close to the story, it will be a winner for family entertainment! Until then, steer your adventure-loving readers to this series. They won't be disappointed!
4.5 out of 5 stars
No AR level yet.
Recommended for: readers in third grade and up, fans of fast-paced stories, spy stories, adventure stories, funny stories, and fans of Dan Gutman's other books.